Orbiloc RUN Dual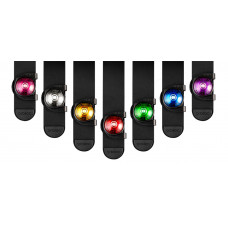 Safety light for runners
Orbiloc Run Dual is a Danish-made high quality LED Safety Light that ensures you are visible to others, when running in the twilight or dark.

The Orbiloc Run Dual is lightweight and will not restrict movement. It is visible from up to 5 kilometres, waterproof down to 100 meters. We trust in the durability of our product so much that we've given it a three-year warranty.
The unique lens design makes is visible from all sides (omni-directional). You can choose between a flashing and steady-on light, for added visibility.
The versatile clip-on or strap-on mounts provide a convenient and comfortable way to attach your Orbiloc Run Dual to your running gear or around your arm/leg.
---
Showing 1 to 11 of 11 (1 Pages)